Edge Clamps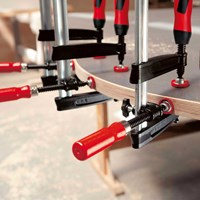 Edge Clamps are often required when fixing or repairing strips of material that run along the edge of a work surface. Without a dedicated Edge Clamp it can be very difficult to maintain clamping pressure on these awkward surfaces, however the majority of users will only need this type of specialist clamp fairly rarely - therefore you can purchase attachments designed to fit on to a standard F Clamp (like the Bessey KT5-1CP) which may be an ideal solution for occasional use, as well as complete all-in-one Edge Clamps that do not require any other equipment in order to use.
Sorry, there are currently no items available in this category. We are currently working to bring you this range of products so please check back again soon.
In the meantime please browse our website using one of the links below :
Browsing Suggestions
If you still can't find what you are looking for try browsing by category using the Browse Tools link at the top of the page.