Fiskars Warranty

FISKARS products have been crafted using advanced technical manufacturing and materials. They have been tested and perform excellently for the activities and environments they were created for. However, no matter how careful we are, errors may occur in the manufacturing process.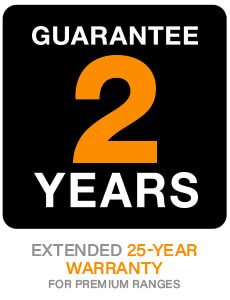 FISKARS products come with a two year warranty as standard. In addition, FISKARS offers an extended 25-year warranty for the following premium ranges: X-Series axes (registration required), 365 Limited Edition Axe, Xact™ digging tools, PowerGear™ X cutting tools and the X-series™ Harvesting Knife.

Certain items and components are considered consumable and are not covered by warranty.

This is a manufacturer backed warranty at the discretion of, and subject to an inspection by, the manufacturer within the terms and conditions of fair wear and tear and correct usage of the tool. Damage caused by accident, misuse and unauthorised repair or modification is not covered.

You can find the FISKARS Warranty Home Page here: : FISKARS Product Warranties
Technical Questions
For any technical enquiries call FISKARS direct on 01782 204 141
I Have an Issue with My FISKARS Tool
We will exchange or refund within the first 30 days if a manufacturers fault is found. This is subject to a manufacturer's inspection & authorisation, and please note you must contact FISKARS in the first instance – this enables them to run through a few basic diagnostic checks to verify the issue and ascertain if the tool needs to be returned to a service centre or can be fixed with a user-replaceable part. If your tool develops a fault thereafter or during its extended warranty period, you must go through the manufacturers repair procedure using the contact details on this page.

In the event of an issue with an individual component please contact FISKARS directly for Assistance.
Contact Details
FISKARS UK Consumer Care
Wedgwood Drive,
Barlaston,
Stoke-on-Trent,
Staffordshire,
ST12 9ER


Telephone: 01782 204 141 (Monday – Friday between 09:00-16:00)
Or email: Click Here