Flap Wheels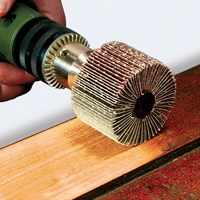 Flap Wheels Information
Flap wheels
are made from individual strips of sandpaper arranged in a radial pattern around a spindle or bore for mounting to a power tool (most commonly an electric drill). The two principle advantages of flap wheels (apart from the fact they are less fatiguing than sanding by hand) are that firstly, they are flexible enough to be used effectively on curved or irregular surfaces, and secondly, as they wear down they continually expose fresh abrasive material. This means they have a relatively high lifetime and can be used until they are completely worn out with minimal reduction in performance. Flap wheels are commonly used in both metalworking and woodworking, and can be used for practically any application where standard sandpaper would be used (though they are not an ideal choice for larger surface areas).
A similar accessory designed for use with angle grinders is called a
flap disc
.
Flap Wheel Safety
Flap wheels in themselves are not particularly hazardous, but many materials, paints or treatments can release harmful dusts when sanded, so make sure to use
respiratory protection
where neccessary. Be aware that some older types of paint contain lead, in which case they should not be sanded at all.
Filter Options

Price Range

Brand

Diameter

Width

Grit Loading...
End of content
Error - No more pages to load