Garden Trolleys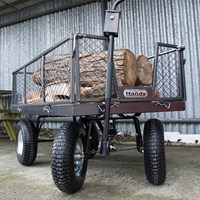 Garden Trolleys Information
Garden trolleys
enable gardeners and landscapers to transport larger volumes of gardening materials, tools or waste in outdoor environments. Capable of carrying bigger loads than wheelbarrows and equipped with four wheels for stability, some
garden trolleys
are also designed to be towed behind a vehicle as well as pushed or pulled manually. For increased durability when working around brambles or especially rough terrain,
garden trolleys
are often equipped with punctureless tyres. Tipping
garden trolleys
have a lever action built into them which enables the contents to be tipped out when required, while on the steel mesh types, the sides can generally be unfastened and folded down for easy access to tools or equipment stored inside.
Filter Options

Price Range

Brand

Weight Capacity Loading...
End of content
Error - No more pages to load