Gardena Warranty

Based in Germany, Gardena products are familiar to millions of home and garden owners worldwide: that is because Gardena offers a complete range of everything you need for your garden, whether it is watering systems, pumps, lawn care, tree and shrub care, garden tools, or soil cultivation. Today, Gardena is the leading brand for high-quality garden tools in Europe and is represented in more than 80 countries all over the world.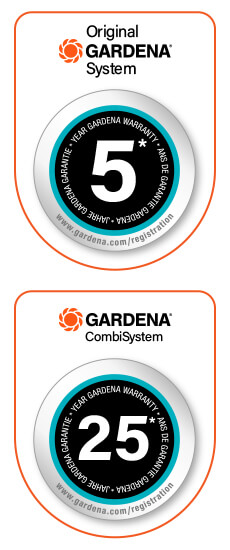 Gardena's products are durable and high quality, and they come with a manufacturer backed warranty. A large number of products in the range also come with an additional warranty extension. Please note that certain items and components are considered consumables and are not covered by warranty (such as V-belts, impellers, light bulbs, air filters, blade fixing parts, blades, turbines, toothed belts, spark plugs).

You can find the details of the Warranty details here: Gardena Warranty

Gardena support their garden range with an extensive range of original spare parts.
Technical Questions
For any technical enquiries call Gardena direct on 0344 844 4558
I have an Issue with my Gardena Product
We will exchange or refund within the first 30 days if a manufacturers fault is found. This is subject to a manufacturer's inspection & authorisation, and please note you must contact Gardena in the first instance – this enables them to run through a few basic diagnostic checks to verify the issue and ascertain if the tool needs to be returned to a service centre or can be fixed with a user-replaceable part. If your tool develops a fault thereafter or during its extended warranty period, you must go through the manufacturers repair procedure using the contact details on this page.

In the event of an issue with an individual component please contact Gardena directly for Assistance.
Contact Details
GARDENA Support

Telephone: 0344 844 4558

Or to email, Click Here