Log Splitting Wedges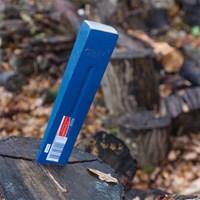 Log Splitting Wedges Information
Compared to log splitting machines and splitting axes, a
log splitting wedge
is a very simple design, both in construction and application. Also known as a log splitting grenade or wood grenade, the wedge is simply inserted into the wood grain and hit with a
sledge hammer
or similar striking tool to cleave logs apart. They can often be used to great effect on larger, tougher logs that have proven difficult to split with an axe.
Log Splitting Wedges Safety:
Be aware that
log splitting wedges
and striking tools can be chipped and damaged during use so
eye protection
should always be worn to protect against any airborne debris.
Sorry, there are currently no items available in this category. We are currently working to bring you this range of products so please check back again soon.
In the meantime please browse our website using one of the links below :
Browsing Suggestions
If you still can't find what you are looking for try browsing by category using the Browse Tools link at the top of the page.