Ozito Warranty

Ozito are an Australian power tool brand who are part of the Einhell group. The Ozito range of DIY and Garden tools is designed to equip the domestic user with cost-effective and reliable solutions for tackling common jobs around the home and garden, and they offer some of the longest warranties available in the home and garden market (up to five years). Note that Ozito tools are designed for domestic use only and the warranty does not apply if the tool has been used for professional, business or hire purposes.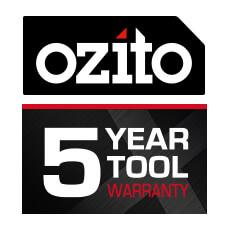 Ozito corded electric power tools are covered by a three year warranty, and Ozito cordless tools are covered by a five year warranty. Certain parts, such as blades, are considered consumables and may not be covered. Additionally, power tool batteries are covered by a separate warranty (see below).

Ozito power tool batteries are covered by a two year warranty. Please note that you will be unable to register these batteries in the UK but Einhell will honour this warranty period as long as you have a valid proof of purchase.

You can find the Einhell Warranty Service UK website here: Einhell Warranty Service UK
Technical Questions
For any technical enquiries call Einhell direct on 0151 649 1500.
I have an Issue with my Ozito Tool
Please contact us if you experience any problems with your Ozito tool while it is still within its warranty period. Please note that there may be limited stock of certain Ozito products and if a replacement is required, you may be offered an equivalent tool from the Einhell range.

In the event of an issue with an individual component please contact Einhell directly for assistance.
Contact Details
Einhell UK Ltd
Champions Business Park,
First Floor Unit 10,
Arrowe Brook Rd,
Upton,
Wirral,
CH49 0AB

Telephone: 0151 649 1500 (Monday – Thursday 9.30am – 5pm, Friday 9.30am – 3.15pm)