Paint Spraying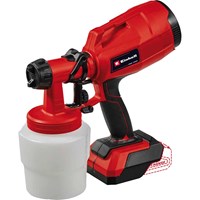 Einhell TC-SY 18/60 Li 18v Cordless Paint Spray Gun
3 types from
£69.95
in stock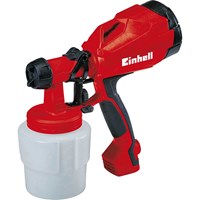 Einhell TC-SY 400 P Paint Spray Gun Loading...
End of content
Error - No more pages to load

Paint Spraying Information
Powered
paint spraying
was developed to offer a faster alternative to brushes and rollers for painting and decorating tasks around the home, garden or jobsite. As well as paint, many of these tools are suitable for spraying varnishes, lacquers and various treatments too. When compared to traditional brushes and rollers, powered spray systems enable rapid, even application with minimal fatigue; however, they tend to go through much more paint, and require more cleaning and maintenance. Also some paints or treatments will need to be diluted in order for the sprayer to work effectively. There are two main types: basic handheld spray guns, and larger paint spray systems.
Here's our Quick Application Guide:
• Paint Spray Guns - consisting of a handheld sprayer with an integrated paint canister, these tools are lightweight, highly portable and simple to use. Though they are a compact option which can be used easily with one hand (useful when working up a ladder) they tend to be less powerful than the larger paint spray systems. Some cordless battery powered machines are also available in this class, such as the Ryobi P620.
• Paint Spray Systems - these are usually similar to
paint spray guns
, but with the addition of a seperate motor housing which is either carried on the person or placed on the ground during spraying. The extra power in these systems means they can be capable of providing a better finish than the smaller guns. Models like the Wagner Spraytech Airless Sprayer Plus also have much larger paint tanks, enabling bigger jobs to be completed without interruption.