Screwdriver Bit Holders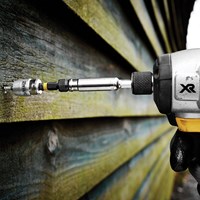 Screwdriver Bit Holders Information
A
screwdriver bit holder
is an accessory that can make driving screws with power tools a quicker and easier process. Firstly, assuming the bit holder is magnetic, it will magnetize the screwdriver bit - this helps to stop screws from falling to the ground when fastening or unfastening. Secondly, when installed in a drill chuck, bits can be swapped over in an instant without having to unchuck them from the machine. Bit holders can also be used with other accessories like hex shank drill bits. There are two main types; basic magnetic bit holders and quick release, or locking, types.
Here's our quick application guide:
• Magnetic Bit Holders - On a basic magnetic bit holder, 1/4" hex bits are held in place purely by magnetic force. This confers the advantage that bits can simply be pulled out when they need to be swapped over, but they can also detach from the bit holder if they become stuck in the screw head or workpiece.
• Quick Release Bit Holders – usually combined with a magnet as well, these bit holders have a locking collar which grips bits securely and ensures they can't fall out during use. The collar is simply pulled down to release the accessory. This system is ideal for use with longer accessories and helps keep frustration to a minimum during more intensive applications. Loading...
End of content
Error - No more pages to load