Wire Cup Brushes Loading...
End of content
Error - No more pages to load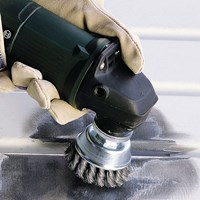 Wire Brushes Information
Rotary
wire brushes
are commonly used for applications such as removing rust, paint or scale, and cleaning & preparing metals for soldering, brazing or welding. They are typically available with a straight shank for use with electric drills, or with a female threaded connector for mounting onto a grinder.
Here's our quick application guide:
• Crimped
Wire Brushes
- these consist of fine crimped wires and are less aggressive than knotted wire types, making them ideal for lighter duty cleaning and surface preparation tasks. The wires are also flexible, meaning they can be worked into recesses.
• Twisted Knot
Wire Brushes
- a twisted knot
wire brush
uses tightly bunched wires of a thicker gauge than crimped wire brushes. They are quite aggressive and will quickly leave visible scratches in softer metals.
• Stainless Steel
Wire Brushes
- these
wire brushes
are designed for use on stainless steel surfaces. Using standard
wire brushes
on stainless steel will usually result in rust spots on the metal after use.
• Brass
Wire Brushes
- brass is softer than steel, meaning these brushes are suitable for work on more sensitive surfaces. They are commonly used for decarbonising auto components.
Wire Brush Safety:
Every
wire brush
is designed to be used below a stated maximum speed and it is important to make sure you do not exceed this. During use, the wires can become detached and fly off at high speed. Therefore
eye protection
is essential. Bear in mind that any exposed skin can be punctured by loose wires so suitable clothing and heavy duty gloves are recommended.