Bench Grinders Loading...
End of content
Error - No more pages to load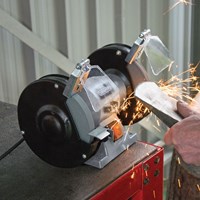 Bench Grinders Information
Unlike most other grinding machines, bench grinders are not held in the hand but are instead bolted down to a workbench or stand. They usually have two separate components; on some machines this enables the user to install a variety of combinations - for example, two different grades of grinding wheel, or a grinding wheel and a wire brush - while others have dedicated sanding or sharpening components. As a result, the amount of possible applications can vary greatly from machine to machine; however, some of the most common jobs for bench grinders include sharpening tools and accessories, grinding metal, removing rust or paint, buffing and polishing. Thanks to its simple, robust design, the bench grinder is an affordable, reliable and versatile tool which is often an essential component in any workshop or garage.
Bench grinder safety:
It is important to only install accessories which are rated for safe use within the bench grinder's operating speed. Accessories which are damaged or used above their speed threshold can explode, and the machine should never be used without wheel guards in place. Always wear suitable clothing when operating a bench grinder and ensure there is nothing that could get caught in the wheel while you are using it (including gloves, the fibres of which can become loose and pose a considerable hazard). As with all grinding tools, good eye protection is an essential safeguard against flying chips, and a full face shield with ear defenders is a wise investment.