Choosing the Best Angle Grinder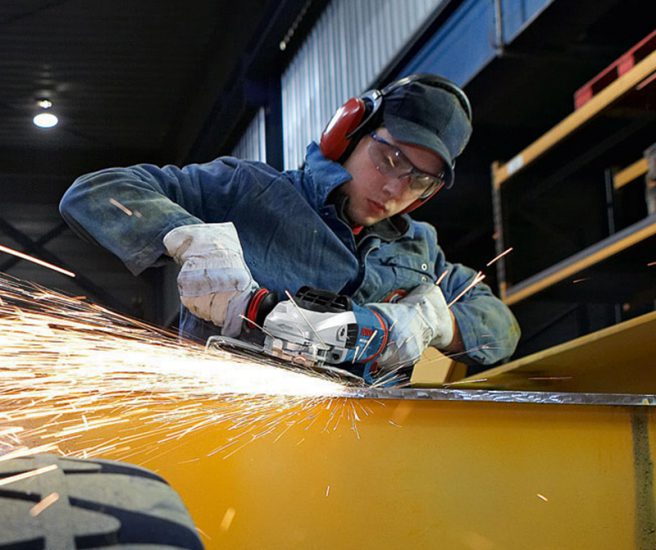 Choosing the Best Angle Grinder – a Tooled-Up Buying Guide
Angle grinders are versatile machines which can be used for a huge variety of tasks thanks to a highly adaptable accessory mounting system. Equipped with a threaded spindle and a flange nut, accessories can be either locked into place using the nut (and a unique type of spanner which is supplied with the machine) or screwed directly onto the spindle. Some of the most common angle grinder accessories include cutting discs, grinding discs and wire brushes, and these are available in a multitude of types and configurations, but you can also find power carving attachments, sanding & polishing pads, concrete grinding wheels, mortar rakes, diamond hole cutters, nylon filament brushes, paint stripping discs and much more besides. As such there is no standard application for an angle grinder, though they are especially useful for quick cuts through metal or construction materials like bricks and paving slabs, and for grinding metal. In its most basic incarnation, an angle grinder is a fairly simple machine: it essentially consists of a motor connected to a gear mechanism which drives a spindle set at a right angle from the body (hence the name). This means you can find some very cheap angle grinders on the market these days, but you can also find much more expensive models which are packed with advanced features and modern technology which we will go over in this guide. As well as these considerations, there are a number of different sizes to be aware of when selecting the best angle grinder for your requirements. So whether you're buying an angle grinder for the first time, or looking to replace an old one, hopefully you'l find some useful info here on the options available on the market today.
Professional or DIY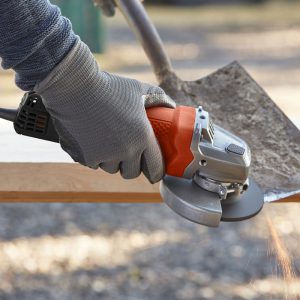 Like most power tools, angle grinders are manufactured for two main markets: DIY and Professional. A DIY user in this context would be a hobbyist or homeowner who uses the tool in their spare time, while a professional user would be someone who probably uses a grinder most days of the week. Professional grade machines should ideally be able to cope with this increased workload, and are built to withstand the abuses of working environments, while most DIY grade tools do not have to be quite as robust. As you might expect, professional grade tools tend to cost more as a result, but it is worth noting that they are fully guaranteed for commercial use, while DIY grade tools are not. Professional tools may also be available with either 240v mains plugs or 110v plugs for use with step down transformers. DIY brands we stock here at Tooled-Up include Ryobi, Black & Decker and Bosch Green, and professional brands include DeWalt, Makita, Hitachi and Bosch Blue.
Disc Size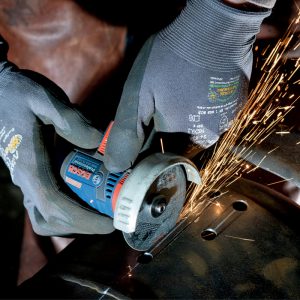 Angle grinders are classed according to the size of disc they are designed for: most commonly this is 115mm (4 1/2″), 125mm (5″) or 230mm (9″) but there are other options as well. The reason for this is to accommodate for the wide variety of tasks these tools are used for. For instance, the best angle grinder for cutting through thick paving slabs will not be the best angle grinder for wire brushing metal fence railings and vice versa. The smaller grinders are lightweight and manoeuvrable, but the discs they are used with have limited depth of cut and are not efficient for tackling larger jobs. At the other end of the scale, a 9″ grinder can cut through much deeper and wider materials in a single pass but it is substantially more heavy and unwieldy, and will quickly become fatiguing to use for any length of time. It's worth noting that most grinders sold are in the 115mm and 125mm class and it is usually easier to obtain discs and accessories for these machines in high street stores than for less common variants.
Corded or Cordless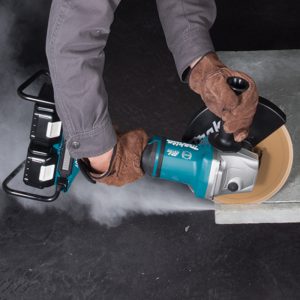 Grinders are high energy tools and if you use one all day long, chances are you're still tethered to a power lead. However, battery technology is constantly improving and many of the cordless tools available today are capable of tasks that would have seemed impossible a few years ago, especially the new generation of high voltage tools like Makita's 36v DGA900 and the DeWalt Flexvolt 54v DCG414. These machines are capable of delivering the same performance as corded tools with the added bonus of go-anywhere portability and no power leads to get tangled up or tripped over. The downsides with cordless grinders are that batteries are expensive and runtime will be an issue during more demanding applications. As with other tools though, the convenience of cordless is hard to beat, especially if you are working outdoors. Even if you're committed to corded power, a cordless grinder can be very useful to have on hand for those odd jobs where you don't want to drag out an extension cable or just need to make a few cuts now and then. Investing in high capacity batteries (5.0ah and above) will help you stay working for longer and look for tools which have energy efficient brushless motors to get maximum runtime per battery charge.
Variable Speed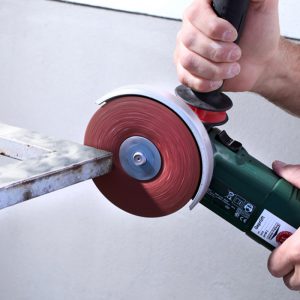 Angle grinders have high operating speeds. Most corded 115mm angle grinders run at around 11,000rpm, which is ideal when you want to cut or grind metal, as it enables the tool to quickly power through the job. However, this speed is not optimized for every possible application. For example, grinders can be fitted with accessories for polishing stone or backing pads for attaching sanding discs, even though they run much faster than dedicated machines for these applications. Angle grinders are also commonly used with wire brushes which have individual speed restrictions, above which they cannot be used safely. In these kinds of scenarios it is often preferable or essential to be able to dial the speed back to maintain control and safety, and to avoid damaging the workpiece. Variable speed control is not very common in angle grinders but it can offer the operator a lot more control, and is worth considering if you intend the use the tool for more than standard cutting and grinding applications. Machines that have this function include the Bosch AdvancedGrind 18, a cordless angle grinder on the Bosch Power4All 18v platform.
Soft Start Motor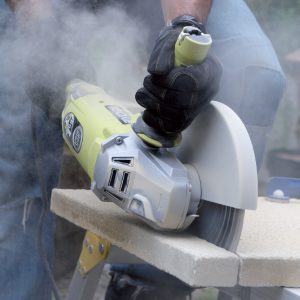 When switching on a standard angle grinder, the recoil from the powerful motor can cause the tool to jerk in the operator's hands. A soft start motor negates this by ramping up to full power in a controlled slope, meaning there is no sudden jolting or jarring when the switch is engaged. This is a fairly common feature in professional grade machines and helps to ensure more user comfort and control throughout the working day. You can also find it in some DIY tools, including the Black & Decker KG911K and the Ryobi EAG2000RS.
Automatic Speed Control
Ordinarily, load conditions will cause accessories to get bogged down during more demanding applications, resulting in a reduction in speed and performance. To combat this, some grinders feature automatic speed control (or Automatic Torque Drive Technology, in some Makita machines). This technology continually makes adjustments according to load condition to ensure constant speed and torque is maintained for consistent performance. Automatic speed control is usually found in higher end professional machines like the Makita DGA506 and Bosch GWS 850 C, but it is also present in some DIY tools like the Ryobi R18AG7.
Restart Protection
Many angle grinders have a slide switch which can be locked in the "on" position for continuous operation. This can be hazardous if the power is interrupted briefly, eg if the plug is pulled out by mistake or if a battery needs to be replaced, only for the machine to start up at full speed again as soon as power is restored. To counter this, most new tools of this type have what is often called a restart protected or no-volt switch. This is a safety feature that automatically breaks the circuit in the event of a power cut; to start the grinder up again, the switch has to be switched off and then back into the on position. This adds a reassuring level of user protection and will appeal to anyone who has been startled by a live power tool starting up unexpectedly in the past.
Kickback Protection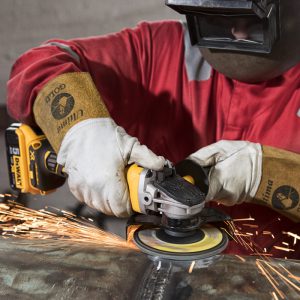 One of the other hazards that can encountered when using a grinder is kickback. This occurs when an accessory gets pinched or jammed, causing a rapid loss of velocity and making the tool jump aggressively out of the workpiece, often back towards the operator. This can cause wrist injuries and harm anyone in the path of the machine, but it can also cause abrasive discs to break and shatter into high speed fragments. It is important to understand the conditions that cause kickback and all grinders are supplied with safety information on how to avoid it. However, some tools also have kickback protection built into them to help minimize the risk of it occurring. Mainly found in higher end professional tools and marketed under a variety of terms including AFT (Makita) and E-Clutch (DeWalt) these integrated safety systems are designed to immediately shut off power if binding conditions are detected, ie if the speed drops rapidly enough to indicate a jammed accessory. Ideally, this will mean the tool shuts down automatically before kickback can occur, helping to reduce the risk of injury or damage. Angle grinders that feature some form of kickback protection include the Ryobi R18AG7,  Makita DGA700, Makita DGA900, DeWalt DCG405, Bosch GWS 24-230 LVI and the Bosch GWS 12-125 CI.
Drop Protection
At present a technology which is exclusive to Bosch professional angle grinders, a drop sensor in the machine is designed to automatically apply the brakes if it senses the tool has been dropped, a safety feature that helps to protect the operator as well as other workers in the vicinity. Live angle grinders are capable of travelling alarming distances once dropped so this is a another safeguard that can help to make your workplace safer. Machines that feature drop control sensors include the Bosch GWS 18-125 PC and GWS 18V-125 SC.
Vibration Control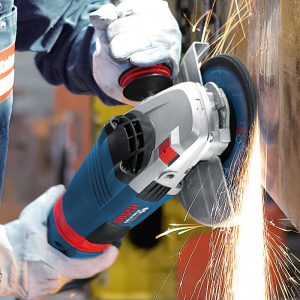 Hand Arm Vibration (HAV) is the process in which vibrations from power tools travel into the operator's hands and arms, and HSE directives stipulate that employers must take steps to control it in the workplace if employees are regularly using tools such as grinders, sanders, breakers, chainsaws or hammer drills. Continuous exposure to vibration can cause detrimental health effects to the point where individuals may eventually lose strength in their hands, have trouble handling small objects and experience hand pain in cold weather. So if you use a grinder every day, and especially if you regularly experience tingling, numbness and white fingers, the amount of hand-arm-vibration you're exposed to is an important factor to consider. Manufacturers are obliged to provide these statistics with new angle grinders, and many power tools these days are designed with integrated vibration dampening systems. On angle grinders the traditional hard plastic side handle can be a weak point for vibration transmission, and you can purchase anti-vibration handles, either with new machines or sold separately to retrofit existing ones.  Some grinders, such as the Bosch GWS 22-230 LV and the Makita GA9040S, also feature vibration dampening between the motor and the trigger switch, so both hands are buffered against the work area.
Electric Brakes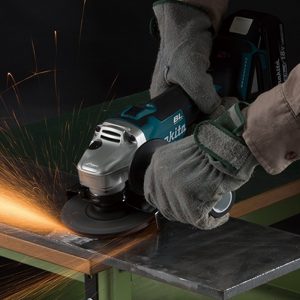 On the more traditional angle grinder designs, disengaging the switch doesn't bring the spindle to an immediate stop. Instead it speeds down gradually until the remaining energy is completely spent. During this time it is not always safe to put the grinder down as if the still spinning accessory contacts a solid object it can cause the machine to jump or skid across the surface, potentially injuring anyone in its path. This can be annoying when you need to set the grinder down at regular intervals, but it also means there can be an alarmingly long window where the machine poses a considerable hazard if something goes wrong and you need to turn it off, for example if it snags on clothing or equipment, or if you accidentally drop or otherwise lose control of the tool. Fortunately, some manufacturers have taken steps to address these issues and there are a few angle grinders on the market that have rapid action brakes, designed to bring the accessory to a complete stop as soon as possible once the trigger is released. Machines that feature rapid braking systems include the DeWalt DCG414,  DeWalt DCG405, Makita DGA506, Makita DGA900, Makita DGA700 and the Bosch GWS12-76.
Overload Protection
Angle grinders commonly spend long hours grinding away in hot, dusty environments, and subsequently they often lead hard and short lives before being consigned to the scrap bin. Many users simply see them as consumable and easily replaceable tools and will buy the cheapest models they are comfortable with. At the other end of the spectrum you can also buy machines which have built in overload protection – a handy feature which helps to protect your investment. These tools are able to detect when the motor or battery is being overworked and will automatically shut down to prevent critical overheating, thereby prolonging the lifetime of the tool. Overload protection is built into machines like the Makita DGA506, Makita DGA700, Makita DGA900 and Bosch GWS 18-125 V-LI.
Other Things to Consider When Buying an Angle Grinder
Make sure you have suitable PPE before any undertaking any task with a grinder. Eye protection is essential to protect yourself against flying chips and sparks, and many users wear a face shield for full facial protection. Other recommended PPE includes hearing and respiratory protection along with gloves and suitable footwear. Ensure you have chosen the correct accessories required for the task at hand and that they are suitable for use with your machine. If you have any doubts about whether a specific tool or accessory will be suitable for the job you are doing feel free to visit our trade counter in Brimsdown or phone our customer services team who will be happy to go over the available options with you.
---
Categories discussed in this article: