Boa Tools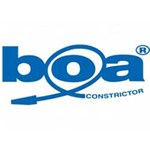 Founded in 1994, Boa manufactured the world's first Multi-use strap wrench. This sold in excess of 15 million units and following its success Boa went on to develop in many areas of hand tool and power tool accessory markets. As an ISO 9001 qualified company, Boa takes great care to ensure that their products are dependable and reliable. Maintaining their reputation for bringing real new ideas to the market has made them one of the most admired companies in their sector as well as one of the fastest growing.

About The Products

Most well known for their strap wrenches, Boa's range includes the lightweight Baby Boa and larger Boa Constrictor models and these can all be easily adjusted to ensure the perfect fit for the job. Regularly used by maintenance workers such as plumbers and mechanics, the Boa strap wrench is perfect for gripping irregular shapes and can employ over 2,000lb of pressure without marking the work piece. Strength and flexibility are provided by the rubber straps which fit into a slot in the handle of the tool and provide a robust, malleable grip suitable for a wide range of applications.

Boa also manufacture power tool accessories, including a range of diamond drill bits and hole saws ideal for drilling through tiles in kitchens and bathrooms.
Top Picks