Bosch Professional Tools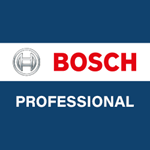 Bosch Blue tools represent the professional arm of the German engineering firm's power tools division. Designed to survive intensive use in jobsite environments and deliver the consistent performance that professional users depend on, the Bosch Blue range covers a huge catalogue of tools, from everyday workhorses to highly specialised machines and accessories.

About The Products

Bosch have been making electric drills since 1932, and were instrumental in the development of the SDS system which revolutionised the construction industry upon its introduction in the 1970s. Today, Bosch cordless drills cover everything from pocket sized 10.8v models up to 36v SDS Plus rotary hammers. A large range of Bosch corded drills is also available, including SDS Max machines for heavy duty drilling and demolition work.

Bosch jigsaws are highly regarded by professional users; available in both D-handle and body grip configurations, and in corded or cordless variants, these ergonomic and highly manoeuvrable tools supply impressive cutting power with low vibration, allowing maximum control and precise results.

Bosch invest heavily in battery technology for their cordless platforms. In keeping with their commitment to innovation, they released the world's first wireless power tool charging system, with additional car charging capabilities, ensuring it is now easier than ever for the professional user to keep their batteries charged up in between jobs.
Top Picks