DeWalt Brush Cutters
DeWalt Brush Cutters are designed for heavy duty clearing tasks as well as standard grass trimming - with a spool of nylon trimming line they'll whip grass and light weeds down to size, but switch to the metal blade and they'll slice through much tougher overgrown areas just as easily. Brush cutters need to be powerful machines and have historically been associated with petrol engines, but thanks to the powerful Flexvolt cordless system DeWalt have managed to make an extremely succesful battery powered alternative in the form of the DCM571.

Dewalt Cordless Brush Cutters are much more convenient than their petrol cousins; simply recharge your batteries in between uses and you're always ready to go. These batteries can be used to power other outdoor tools like chainsaws and hedge trimmers as well as tools from DeWalt's industrial range, which covers everything from drills to die grinders. As with the industrial grade tools, DeWalt Brush Cutters are classed as professional machines and are fully guaranteed for commercial use.
DeWalt DCM571 54v XR Cordless FLEXVOLT Brush Cutter and Grass Trimmer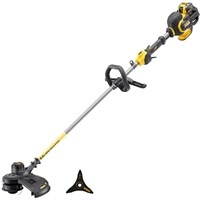 2 variants from
£295.95
Available to order Loading...
End of content
Error - No more pages to load