Faithfull Tools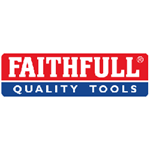 Faithfull tools are a Norwich based supplier of tools, accessories and electrical goods designed for the trade, DIY and garden markets. Established in 1989, their present day catalogue covers a huge range and their diverse selection of functional and affordable products has resulted in them becoming one of the best selling tool brands within the UK and Ireland.

About The Products

With nearly 3,500 items listed in their current catalogue, covering hand tools and power tool accessories, woodworking, building & construction, plumbing, electrical, automotive, decorating, engineering, household and gardening, Faithfull provide solutions for a huge range of applications.

One of our best sellers is their 3.3Kva portable power tool transformer which is an affordable but solidly built solution for 110v tools and site use.
Top Picks