Irwin Tools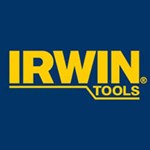 Irwin Tools was established in 1885 and the company was originally synonymous with the solid centre, or "Irwin", auger drill bit. Charles Irwin, who founded the company, was actually a pharmacist by trade and had bought the rights to the solid centre auger design from one of his customers, a local blacksmith. Over the years, Irwin diversified their product range and went on to become of the most ubiquitous American hand tool brands with a series of mergers and acquisitions, perhaps most notably in 1985 when they combined with Vise-Grip. As of 2016, they have been part of the Stanley Black & Decker conglomerate.

About The Products

As well as the standard Irwin range, Irwin's catalogue also encompasses Quick-Grip, Vise-Grip, Marples, Jack, Joran, Hilmor, Gilbow and Record branded tools.

Irwin Quick-Grip clamps have become an industry standard for rapid clamping applications and their robust and effective design has ensured they remain a staple of many carpenters, joiners and woodworkers tool kits.

Originating in 1828, Marples of Sheffield became renowned for their high quality chisels, which are now manufactured by Irwin, along with a Marples range of circular saw blades.

Invented in 1924 by Danish blacksmith William Peterson, the original Vise-Grip locking plier was a truly innovative tool and since the expiration of the original copyright in 1941, the design has been adopted by just about every major hand tool manufacturer. The originals are still manufactured under the Irwin Vise-Grip name and are available in a number of configurations and sizes.

Another legendary Sheffield tool manufacturer to come under the Irwin wing was Record. Some Record planes in the Irwin catalogue have been a staple fixture of carpenter's workshops for generations and are still manufactured to the original specifications.
Top Picks