Moore and Wright Tools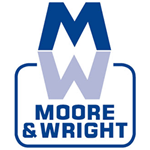 Founded in 1906 by engineer Frank Moore, Moore & Wright has been designing, manufacturing and supplying precision measuring equipment to global industry for over 100 years. With an extensive catalogue of testing & calibration equipment, precision measurement products and engineering tools, Moore & Wright continues to supply worldwide industry with high quality products to this day.

As part of the Bower's Group their first class reputation has been built on the continuing group ethos of striving for excellence in products.

About The Products

Moore & Wright are well known for their Calipers, and manufacture an extensive range including spring joint internal, external, vernier and digital vernier options.

The Moore & Wright 110-DBL Series Digital Callipers display values in mm/inches and feature ABS/ INC measurement settings. Manufactured from hard wearing stainless steel, the Calipers offer a zero point at any position and a conveniently located on/off switch. They are available in 150mm, 200mm and 300mm sizes.
Top Picks