Purdy Professional Painting Tools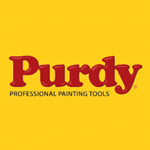 Purdy have been in business for almost 100 years, starting out in a garage with five employees as a small manufacturer of paintbrushes in Portland, oregon in 1925. By 1965, their range was being sold all over America and it didn't take long for their products to achieve worldwide recognition as some of the finest tools available to the profesional painter & decorator. Paintbrushes have remained at the core of the Purdy range but they also make several other decorating products including rollers, trays and preparation tools.

About The Products

Purdy know that professionals rely on their paintbrushes and they take the manufacture of them seriously indeed. Handmade in much the same way they were back in 1925, each brush is finished with a sticker bearing the initials of the person who made it, and each employee has to undergo a two year training course before they are entrusted with the production line. Before being signed off, every Purdy paintbrush goes through a series of quality control processes to ensure each one is worth of its reputation before it reaches the marketplace. Professional decorators and DIYers will also find other handy products in the Purdy range, including putty knives and brush cleaning tools.
Top Picks