Tajima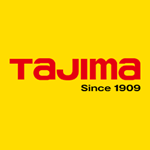 The Tajima Tool Corporation was founded in 1909 and they are Japan's largest manufacturer of hand tools, though only a small selection of their product range is available for sale in Europe. On these shores they are probably best known for the Convoy range of caulking & sealant guns which have earned a reputation in the trades for robust build quality and high performance.

As well as a number of Tajima caulking & sealant guns, we also stock Tajima measuring and marking tools including chalk lines, angle meters and plumb bobs.

Recognised Globally Tajima are a premium tool brand selling professional grade hand tools offering exceptional features & functions of an extremely high quality.
Top Picks