WD40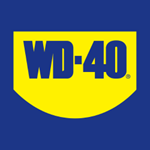 WD-40, regarded by many as the Number 1 problem solver for taking care of things, was invented over 60 years ago. A team of scientists were looking for a solution to prevent rust and corrosion and after 40 attempts to get the right formula the product was founded and named as WD-40. Their very first cans were being sold in stores in 1958 and within two years the company had doubled in size. In addition to the famous blue and yellow can known as WD-40 the company now offers a wide range of products spanning specialty maintenance and cleaning for all types of industrial applications as well as for general household and DIY use.

About The Products

WD-40 Specialist is a line of professional grade speciality products formulated for heavy duty applications and designed primarily for DIY enthusiasts, trades and industrial users. A popular product from this range is the High Performance PTFE Lubricant. It is available with a smart straw attached to the can, for wide or precise spraying flexibility and can withstand temperatures of -20°C to +250°C.

Their popular Multi-Use Range consists of the original formula which is ideal for general maintenance problems. This range comes in an aerosol or 2 container sizes which offer larger quantities ideal for professional users. This range lubricates to make equipment run smoothly and removes oil, dirt and grease while also protecting metal surfaces from rust and corrosion. In the UK, the WD-40 company produces a wide range of lubricants under the brands of WD-40 and £-IN-ONE, together with the 1011 range of carpet care products.
Top Picks