F Clamps Loading...
End of content
Error - No more pages to load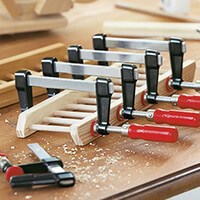 F Clamps can be broadly categorized as having a profile shaped like the letter F, and they can also be found under a variety of other names, including Screw Clamps and Bar Clamps. The movable jaw on an F Clamp can be slid up or down the bar to rapidly line it up with the workpiece before tightening it down, usually with a screw. This means they can deliver heavy duty clamping pressure like a G clamp, but with much greater speed. Additionally they tend to have a much larger capacity, although you can also get smaller versions for lighter duty work. They are very similar to Quick Clamps in function and can be viewed as a heavy duty alternative which is more robust but often slightly slower to set up. F Clamps are popular for both wood or metal work and they are often supplied with plastic or rubber caps for the jaws. These help to prevent damage to softer surfaces but can be removed during applications like welding.
Here's our quick application guide:
•
Screw Clamps
– the standard
F Clamp
is tightened or loosened via a threaded screw mechanism on the moveable jaw. This is a simple, robust design wthich is easy to manufacture and subsequently these tend to be the cheapest and most numerous
F Clamps
.
•
Lever Clamps
– some
F Clamps
have a lever mechanism instead of a screw. Once the moveable jaw is in place, it can be firmly clamped into position simply by locking it in one quick action. Likewise when you want to release the jaw you just pull up on the lever to unlock it, making these clamps a valuable time saver for everyday users.