Guide Rails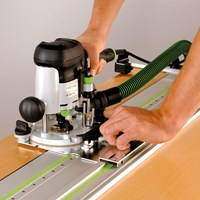 Guide Rails Information
Guide rails
are used to cut or carve exceptionally accurate straight lines with handheld power tools. They are most commonly used with plunge saws, but they can also be used with other tools like circular saws, jigsaws and routers (although a separate adaptor may be needed to fit the tool to the rail). Guide rails are commonly available in a variety of lengths, but they are also designed to be connected together so large rails can be constructed out of several smaller ones when necessary. This makes them ideal for transporting to and from site for mobile applications, and we also stock guide rail carry cases from Makita, Bosch, Festool and DeWalt, along with additional accessories like clamps and parallel guides.
Sorry, there are currently no items available in this category. We are currently working to bring you this range of products so please check back again soon.
In the meantime please browse our website using one of the links below :
Browsing Suggestions
If you still can't find what you are looking for try browsing by category using the Browse Tools link at the top of the page.