Tillers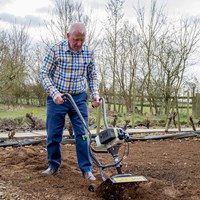 Tillers Information
Tillers
and cultivators are used for preparing areas of soil for planting seeds, and are especially useful in allotments and larger vegetable gardens where breaking up and turning over the soil quickly turns into a labour intensive exercise when undertaken by hand. Although
tillers
and cultivators look similar they are both designed for different applications (although some machines are designed to fulfil both roles). As they are generally used in remote locations and have to undertake fairly heavy duty work, most of these machines run on petrol, but some of the lighter duty types can be powered by mains power or lithium ion batteries.
Here's our quick application guide:
•
Tillers
– the
tiller
, often known as a garden tiller, is used as a preparatory tool for breaking up rough ground. They are available in two configurations: front tine
tillers
and rear tine
tillers
.
• Front Tine
Tillers
–
tillers
can be quickly identified by the position of the tines (the blades used for breaking up the soil). On a front tine
tiller
, these are located in front of the wheels. They are usually lighter and more manouverable than rear tine
tillers
, making them ideal for negotiating smaller spaces. However they are not generally as powerful, so are usually best for ground that is not completely solid.
• Rear Tine
Tillers
- on a rear tine
tiller
, the tines are located behind the wheels (and covered by a shield to ensure the operator does not come into contact with them). They tend to be larger, heavier and more powerful than front tine
tillers
, making them suitable for breaking up tougher ground.
• Cultivators - the cultivator does not have to work as hard as the
tiller
and subsequently they can be found powered by lithium ion batteries. A cultivator is used on ground that is already broken up and its job is to process it into fine soil or to mix in materials like compost or fertiliser. Loading...
End of content
Error - No more pages to load