Black & Decker Tools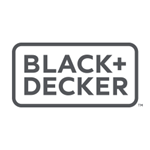 One of the most widely recognised power tool brands in the world, Black & Decker was established in the US in 1910 and is today part of a large conglomerate that includes Stanley and DeWalt. Though their modern product range is designed exclusively for the DIY and household markets, the company has a rich background of innovation in professional fields, including contributions to NASA's Gemini & Apollo space programs. In 1917 they patented the first portable pistol grip, trigger switch electric drill; a design which influenced countless subsequent machines and heralded the arrival of the handheld drill driver as we know it today.

About The Products

Supplying everything from lawn mowers and cordless vacuum cleaners to the ubiquitous Black and Decker drill, B&D make it easy to turn your house into a home. From everyday cleaning & maintenance tasks to ambitious DIY projects, Black & Decker tools have been relied upon for decades to get the job done. The current 18v cordless lithium-ion battery system, which can be used to power more than 30 tools, includes all the DIY essentials such as leaf blowers, strimmers, trimmers, chainsaws, circular saws, sanders, screwdrivers and combi drills. Black & Decker also manufacture a large variety of corded electric tools; popular models include their lawn rakers, alligator loppers, scorpion saws and hammer drills.
Top Picks