Karcher Tools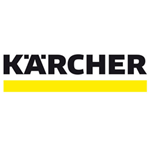 Alfred Karcher brought the first Hot Water Pressure Washer to the European professional market in 1950. Since then, Karcher Tools have become internationally remowned and the company he founded has become the world's most trusted cleaning machinery manufacturer, supplying innovative & high quality German engineered products for trade, industrial & domestic applications. Karcher's success is built upon consistent trade & customer satisfaction with their efficient & environmentally friendly cleaning solutions.

About The Products

The Karcher product range is split into two categories: Karcher Professional (grey) machines which are suitable for trade and industry use, and Karcher Domestic (DIY) machines which are generally yellow.

A brand synonymous with Pressure Washers, Karcher have an extensive range for professional and domestic applications. Karcher Pressure Washers are available in hot and cold models, and as well as the corded models which are suitable for use with 240v mains or 110v power supplies, you can also get Karcher Petrol Pressure Washers and even a handful of Karcher Cordless (battery powered) variants, which are suitable for low pressure cleaning applications. As well as over 50 years of experience in the design and manufacturing of Pressure Washers, one of the primary benefits of the Karcher system is the huge range of available accessories, covering everything from sandblasting adapters to underbody chassis cleaners.

For indoor cleaning applications, Karcher Steam Cleaners are just as respected as their pressure washers and the range includes a similarly extensive selection of accessories for intensive chemical-free cleaning in areas such as kitchens and bathrooms.

Dust and debris can be effectively handled by Karcher Vacuum Cleaners, which include models with power take off sockets for use in conjunction with power tools. As with other Karcher Tools these are available in domestic and professional grades depending on your application.
Top Picks