Fruit Pickers
Fruit Pickers Information
Fruit Pickers
, also known as fruit harvesters, are tools used for harvesting fruit (as well as vegetables, nuts or similar items) - either directly from the tree, or from the ground. Tree
fruit pickers
usually consist of a bag or cage affixed to an extended pole, with a trigger mechanism that enables the operator to ensnare produce from the ground and safely collect it for retrieval. Ground
fruit pickers
on the other hand, usually consist of a rolling flexible cage on (also affixed to a pole) which is rolled over the ground; the idea is that larger items can be squeezed through the gaps in the cage, but won't come back out once they are in it (until they are needed).
Fruit pickers
can be especially handy for people who have trouble bending down or reaching up to high branches and enable large quantities of produce to be harvested while remaining at a comfortable standing position.
Gardena COMBISYSTEM Ground Level Fruit Collector & Harvester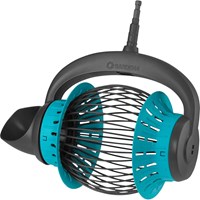 £33.95
Available to order Loading...
End of content
Error - No more pages to load